How does Peer Assessment work?
For Peer Assessment, you'll be asked to evaluate randomly selected, anonymous peer submissions, based on guidelines your instructor provides.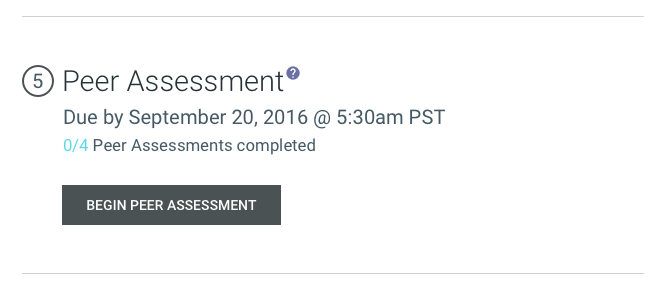 Peer Assessment opens up the moment the coursework deadline passes, in the same place you submitted your coursework. Your instructor will set the peer assessment deadline for after that, and once that passes, you'll see the grade/feedback you received from your peers in the Gradebook. *Note, if your course is running in 'Adaptive Schedule', peer assessment will open up 24 hours after submitting your coursework.
How does Extra Credit Peer Assessment work?
Extra credit peer assessment is a mutual benefit: it rewards students who want to participate more, and helps us ensure everyone gets their work reviewed! Extra credit peer assessment will only open if 1. your regular peer assessment deadline has passed, and 2. there are students who need additional peer assessments.
As long as there are students who still need peer assessment, you'll be able to assess your peers for extra credit in the same way you do normal ones.
Will students I peer assess know who I am?
Peer assessment is completely random and anonymous (except to your instructor). You won't see the names of peers you assess, nor will you see the names of those who assess your work.
Where can I see how I've been assessed?
Head to your Gradebook. If you open your assignment up from there, in the Grader Notes at the bottom, you'll see a tab marked "Peer Assessment" which you can click to see how you've been assessed by your peers. Note that this only shows written feedback, not the numerical grade if you were given one (that will show in the Grading Criteria section above).
How long does it take to receive peer assessment?
That depends on how many students are at a similar progress point, but typically you'll receive peer assessment within two weeks. If it's taking too long to receive peer assessment, contact us and we'll get it sorted out.
How does Participation Assessment work?
There are two types: Gallery Participation Assessment, and Forum Participation Assessment.
Gallery Participation asks you to provide feedback for your peers in the Course Gallery. Participation criteria will simply be the number of comments required—this information will be visible in the coursework criteria.
Forum Participation asks you to participate in a discussion on the Forums. Participation criteria will be the number of posts (thread creations) required, and/or the number of comments. Each of these may have a minimum word count per post or comment—all of this information will be visible in the coursework criteria.
For Forum/Gallery Participation Assessment to count towards your grade, it must be completed in the specific forum/gallery that's linked in the coursework criteria. NOTE: Your instructor may instead choose to count participation in any forum or gallery to count toward your grade. If this is the case, it will say so in the coursework criteria.
I haven't gotten points for participation! What's going on?
It could be one of a few things:
As noted above, only feedback provided in the gallery/forum associated with the specific assignment that has Participation Assessment will count towards your grade.
Double-check the requirements: you may not have made enough posts/replies, or they may not be up to word count.
Posts, comments, and replies made before the publication of an assignment will not count towards participation assessment for that assignment.
If you have any further questions about peer & participation assessment, or grading in general, please do not hesitate to get in touch with our Support Team at help@kadenze.com.